Inspiration does exist but it must find you working.
Pablo Picasso
We've got this. We're here to help you market and promote your art so you can do more of what you love – Create! ARTS SPARK provides affordable, professional business and marketing services tailored specifically to artists. We offer expertise in digital marketing, website design and development, branding, print and eCommerce services.
In today's world, a strong online presence is essential – especially now. To that end, we work with artists to create beautiful, elegant and affordable websites that showcase their best work. We also provide collateral marketing to help boost your online profile and drive business.
AFFORDABLE MARKETING DESIGNED TO IGINITE
YOUR BUSINESS
When you purchase an ARTS SPARK Business Bundle, our team of professionals will work with you every step of the way to design a dynamic online profile. We have the technical skills and expertise to ensure that your website looks great, works effectively, and correctly interfaces with google.
Then we help you debut your new website! Our content creator will write and distribute a launch press release.  We will announce your new website on ARTS SPARK's social media platforms, and we will create a Featured Artist post on the ARTS SPARK website.  But that's not all…we continue to support you and your business going forward.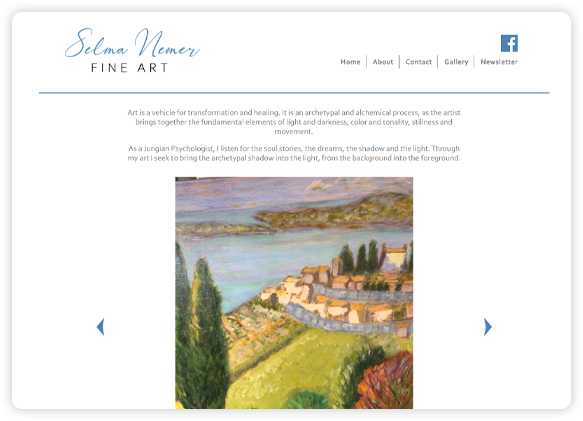 Selma Nemer Fine Art
The common theme of Selma's life and life's work is healing. She has personally and professionally guided others in this mysterious restorative journey. Her art mediums have been culinary art, therapeutic art and visual art. Each has been uniquely illuminating and transformative. As a visual artist, painting is her passion. She believes that the visual arts unite the painter with the witness and in this journey the
Paintings have a life of their own that derives from the painter's soul.
- Vincent van Gogh
The artist sees what others only catch a glimpse of.
- Leonardo da Vinci
Music is life itself.
- Louis Armstrong
Where words fail, music speaks.
- Hans Christian Anderson
Dance is the hidden language of the soul.
- Martha Graham